DiCom wireless audio system
DiCom wireless audio system
Wireless audio systems are a trend for home entertainment products as the technology age has grown rapidly.
With the development of society, smart houses are no longer strange to our lives because of the benefits it brings. One of the factors that make smart homes gradually gain the trust is the wireless audio system. With the advanced features, you can listen to your favorite music in the distance without having to go to the place to play. So, let us learn about a product of Dicom smart home wireless audio system!
Dicom smart home wireless audio system product
1. Wifi sound speaker
Feature:
+ Speakers are designed gracefully and elegantly to suit the modern lifestyle and style of every home.
+ There are 2 sizes to choose, SA 50W or SA 30W speakers, or can combine both types to increase volume.
+ Allow to control 1 speaker or group them to control multiple speakers at the same time, and can give each speaker a separate music source.
+ Control the speaker via smartphone, Tablet …
Application and advantages of Wifi audio speakers
Enjoy the music in the most diverse and interesting way, with great sound quality, you can listen to any song anywhere you want. Can access to many different music sources such as music library, streaming via the Internet or other music channels … Allows controlling one or more speakers at the same time or adjusting the volume in other regions together.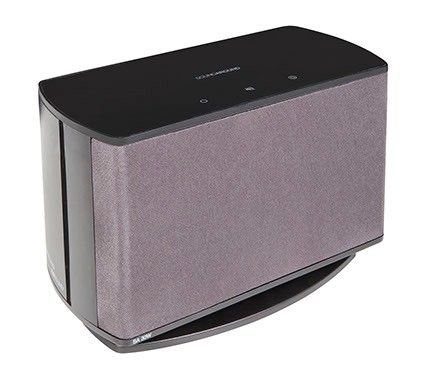 2. Wifi sound control
Feature:
+ Wall-mounted Wifi audio controller can operate independently with SA 30W and SA 50W speakers or works with wall-mounted Bluetooth audio controller.
+ Wifi audio system provides you with three different sound sources including via Wifi, via Bluetooth and another auxiliary jack, this is an extremely flexible audio solution, you can freely choose select your favorite music source, in addition to playing music on the AllPlay Jukebox application, users can stream from multiple devices such as on the Internet, Bluetooth-connected devices, …
+ In addition, the system also has a special feature that you can use the AllPlay Jukebox App to play music to different rooms via Bluetooth signal to create a multi-zone audio system.
Application and advantages of Wifi audio control
Allows you to control the sound independently in any area of ​​the house. Perfect sound quality and elegant design help you enjoy music in a fun way.
Technical data:
+ Wi-Fi audio controller is powered from an external power source. Use any 24Vdc, 15Vdc, 12Vdc power supply depending on the audio output needs and the number of installed control devices.
Above is a product of JVS wireless audio system which we would like to send to you. For more information about other JVS wireless audio products, please visit the website https://www.jvs.vn/.