Mr. Tran Thai Son – CEO of JVS Company won the TOP 100 most outstanding young entrepreneurs in the country
On the evening of December 18, 2019, at the National Convention Center (Hanoi), the 20th Anniversary of the Red Star Award and the Red Star Award – Typical Young Entrepreneurs Award in Vietnam in 2019 took place. Attending the ceremony with the presence of Comrade Vo Van Thuong – Member of Politburo, Secretary of the Party Central Committee, Head of the Central Propaganda Department; Mr. Vuong Dinh Hue – Member of the Politburo, Deputy Prime Minister; Mr. Dang Hong Anh – Chairman of Vietnam Young Entrepreneurs Association and comrades leading the Party, the State, ministries and branches; Delegates are entrepreneurs representing businesses from 63 provinces and cities nationwide.
Red Star Award – Typical young entrepreneur 2019
Red Star Award – The typical young entrepreneur in Vietnam is a noble award organized by the Central Vietnam Youth Union and the Central Vietnam Young Entrepreneurs Association, Red Star Entrepreneur's Club. This award is organized to vote and honor the outstanding young entrepreneurs who have made great contributions to the socio-economic development of the country and are typical examples for young entrepreneurs and young people to follow. contribute positively in building the image of typical young Vietnamese entrepreneurs in the new era. After 20 years of implementation (1999-2019) with 11 times, up to now, the Red Star Award has become a symbol of the success and pride of young Vietnamese entrepreneurs, as well as by the Party and the State. Business and social community appreciate.
Red Star Award – Vietnam Young Entrepreneurs Association is carefully assessed through many award categories and objective evaluation rounds from prestigious evaluation council. The evaluation criteria are based on the entrepreneur's profile and actual data from the business, including total assets, equity, total revenue, budget contribution, profit after tax, profit margin. profit / equity … to the number of employees, the average income of employees in the enterprise and the contribution of entrepreneurs in the development of businesses as well as the social community.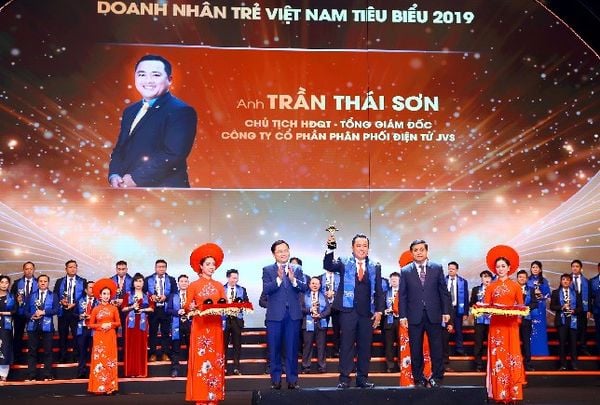 Mr. Tran Thai Son received the Red Star Award after many rounds of evaluation
The Red Star Award – Typical Vietnam Young Entrepreneurs in 2019 was launched from October 2019, underwent three rigorous voting rounds, the voting committee selected 100 typical young Vietnamese entrepreneurs. In particular, Mr. Tran Thai Son – CEO & FOUNDER of JVS Electronics Distribution Joint Stock Company is one of the outstanding business faces honored to receive this prestigious award.
Sharing about his feelings after receiving this noble award, Mr. Tran Thai Son said: "The Red Star Award is a great and prestigious award that many businessmen strive to achieve, including I. It is an honor to receive this award on the occasion of the 20th anniversary of the awards. At the same time, I also see more clearly my responsibilities on the road ahead. I will continue to make greater efforts to grow my business as well as contribute more to the social community. "