Today, specialized screens are increasingly used widely in many different industries thanks to the outstanding features that it brings. There are many different manufacturers but the products manufactured by Sony are evaluated very well and trusted by many customers. The following article will introduce you to some of the solutions that this device offers.
What is a dedicated screen?
Specialized screens are basically the same as regular projection screens. But it has superior performance and brightness, so it is used for the purpose of advertising slideshows, information, instructions …
The screen can be hung vertically or horizontally and divided into multiple areas to display multiple contents at the same time. This makes it possible for users to schedule as they wish and manage centralized synchronization remotely.
Specialized displays are being used widely in many different fields thanks to the outstanding features that it brings. We often encounter in a number of industries that use as much as: banking and finance, advertising information display, buildings, airports, commercial centers …
Sony dedicated monitor
Sony's dedicated screen solutions
Sony Bravia dedicated monitor is a high-end product, combining the best technologies to create a sophisticated display design, excellent quality and comprehensive features. Specialized displays are now widely used in many different industries. Here are some of Sony's dedicated display solutions:
Display solution for hotel, resort and restaurant blocks
In the hotel, resort and restaurant sectors, specialized screens are used to display information, display advertising instructions and IPTV (a digital television service system is broadcasted thanks to the internet protocol). Sony's dedicated monitors also combine with IPTV software to form an IPTV solution package for hotels and resorts.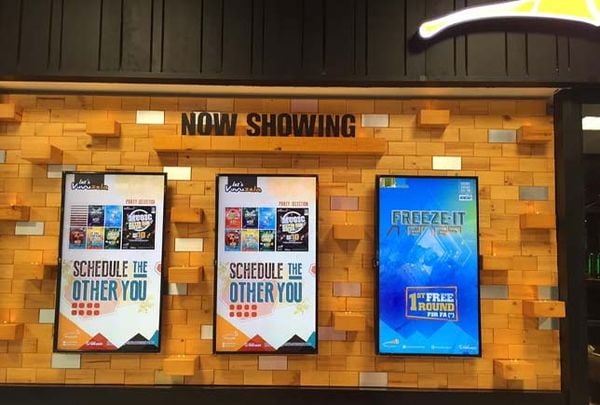 Dedicated screen in the service block
With the display feature, it is possible to display the information of services, photos of hotels in the same chain system, information of travel season promotions … that only need to be managed on one server. Specialized displays are usually located in large halls, reception areas, and walkways on floors to help customers know more about services and products.
Display solution for public administration
With the policy of applying IT in operation, public administration with many customers use the display screen for different purposes:
– Display work schedule, citizen reception calendar, working schedule of officials and staff
– Display vaccination schedule, health examination schedule, visits of patients
– Display information, guidelines and policies from the system of provinces, districts, communes and wards
Information display solution in banking and finance industry
In the banking – finance sector, exchange rates, interest rates, transactions need to be updated and must work continuously. This requires a dedicated monitor to perform these functions. Ordinary TVs can't run continuously for long periods of time because it will shut down and shorten its life. At this time, dedicated screens are a wise choice.
Dedicated screens used in banks
In addition, the latest exchange rates, the ups and downs of indices, time, promotions, etc. will be updated simultaneously from the head office to the branches at the same time. Help information to be transferred faster and more simultaneously.
The screens are usually located in the area near the entrance, which serves as a guide for customers on arrival. This helps customers know the process better, helping save time for both parties.
Display solutions, advertising for businesses
The demand for display and advertising for businesses is varied by the unique characteristics of each business and each different industries. Therefore, the dedicated screen is considered as an advertising tool for the company's products and services.
Use for presentations, online meetings in the business.
Specialized displays allow businesses to easily project their products or services or display any content. Therefore, businesses interact better and more with customers.
In addition, businesses can choose specialized screen solutions for meeting rooms to make display screens; Screen inform the whole company about upcoming marketing / business programs. Can be used in departments to display information on goals, business results, employee rewards.
Solutions in education and training
Currently in education also use a lot of specialized screens. Served for academic work and student work. Specialized displays are usually located in large halls, welcome gates or administrative blocks.
Sony dedicated monitor used in education
Solution in health
With state-of-the-art technology in information transmission, dedicated screens are used in the transmission of information to patients quickly, clearly and without tedious. The use of specialized screens also helps stabilize the order and beauty for the hospital.

In hospitals also widely used.
Hospitals can also use dedicated screens to put programs, recommendations … to help patients know more about health. From there, they can self-awareness and improve awareness of disease prevention.
In addition, in the operating room where the accuracy and meticulousness are extremely high, the dedicated screen is a great assistant to help the doctors. Thanks to this device, the doctors are able to follow the larger and more detailed images when performing the surgery.
Solution in aviation
The airport where thousands of flights take place every day, requiring the provision of flight information, the date and time must be updated continuously, the use of dedicated screens is essential. This area also focuses quite a lot of international and domestic passengers, the use of specialized screens will help more professional, more modern in the eyes of travelers.

The screen used to notify flight schedules.
The use of dedicated screens also helps passengers understand the information, so they can be assured and proactive in moving. As such, it also helps to reduce the number of instructors to help save costs.
The above are some solutions for Sony dedicated monitors. If you have any questions, please contact JVS immediately, we will advise and answer for you.