With the essential human needs for safety, PHGLock has launched many different types of smart lock products, to ensure the safety of your home and yourself.
Let JVS find out why we should choose PHGLock electronic lock for our home!
PHGLock electronic lock with luxurious and modern design
PHGLock electronic lock is designed with various designs and modern. From the numeric keypad to the corners or the rounded lock handle and make sure to create a highlight for this lock. In addition, the color scheme also creates elegance for your home.
PHGLock electronic lock is suitable for many types of doors such as wooden doors, aluminum or plastic doors and suitable for all places from apartments, townhouses, villas, hotels …
You can choose an electronic lock gold, silver or copper made from stainless steel or alloy to add highlights to the door. In particular, some models can resist scratches, rust and durability, withstand even bumps. These lock patterns are made from Sydney stainless steel.
PHGLock electronic lock is made of stainless steel Sydney
Enhanced security
PHGLock electronic lock has many high security features such as fingerprint unlock, code, magnetic card, remote, mechanical key in case of emergency. With this feature, other people also cannot scan, copy or cut keys like normal mechanical locks. Especially, there are some types of PHGLock's ISee IC103W electronic lock and doorbell combination with 4.0 technology, through the phone, you can control the security of the house easily such as:
See, talk, open the door remotely through the phone.
Warn to phone when someone wants to sabotage, break into.
Turn on the camera through the phone, check campus in front of the house.
Receive an incoming call on your phone when the visitor rings the bell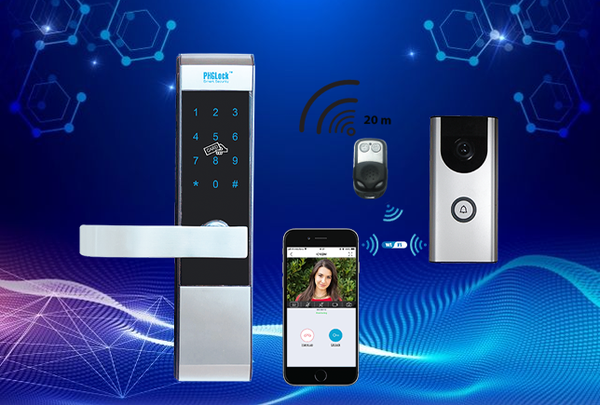 Combo door lock KR3274 and IC103W
Convenient fast
You always have to choose the key models with many keys or have to cut more keys to divide for each family member, but with electronic keys can be opened in many ways such as codes, fingerprints, cards. words, remote, in addition the number of magnetic cards as well as memory storage fingerprint pretty much. For example, the fingerprint lock FP7153 has up to 256 codes, 256 MF cards, 100 fingerprints, 8 remote or FP8161 with 99 MF cards, 32 codes, 99 fingerprints …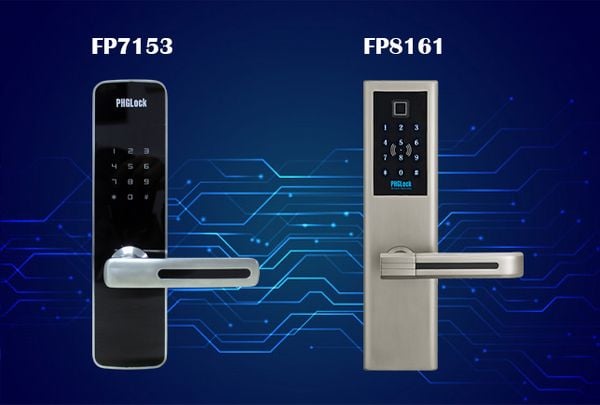 Fingerprint lock PHGLock FP1753 and FP8161
If you're standing at the door and you're still struggling to find the door key or even a magnetic card, now only 1-2 seconds you can open quickly with your own fingerprint.
PHGLock electronic lock uses common AA batteries and easily be bought with a duration of 6 – 12 months, especially there will be a signal to weak battery before 10 days so you do not need to worry about this problem.
Currently, JVS is a distributor of PHGLock products with many attractive policies that will satisfy all customers.