WITH THE GENERAL DIRECTOR OF JVS EXPERIENCING OSAN SMART CITY (KOREA)
Following the Vantech camera delegation and JVS representative is Mr. Tran Thai Son – CEO of JVS Company, visiting the smart city (Smart City) in Osan, South Korea. According to Mr. Tran Thai Son, this is fortunate because not any camera company can enter the "mind" of the Executive Board, have the opportunity to visit the actual experience of the overall security solution. Fully integrated for a smart city, including:
1 / Early warning system
When residents / tourists move on the street, they will immediately see a pillar with many smart cameras using artificial intelligence (AI). Each camera carries out a separate task, including: theft detection camera, illegal parking detection camera, smoking detection camera, illegal parking detection camera, 360-degree scanning camera.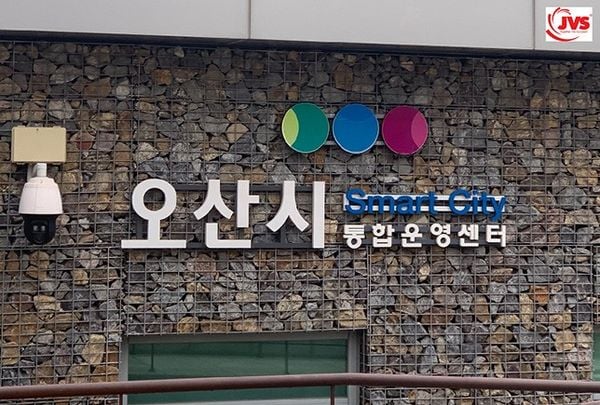 In particular, SOS button is installed on the cabinet for people / guests to click when having any problem. Immediately, the 2-way speaker system (heard) will play: "What do you need help?", And the camera turned to ask for help. If you need assistance, local police will be available within 3 minutes after making the request. The great thing is that this system can play multiple languages. If the area has many Vietnamese people, it will support Vietnamese audio.
2 / Operation Center
Osan City has nearly 50,000 cameras across the city, if using normal cameras it takes 1,000 people to operate. But here they only use a total of 9 people for 3 24/24 24h shifts. So how do they do it?
All the cameras they use are smart cameras that use artificial intelligence (AI). There are many cameras on each street camera, but each camera does the same task as mentioned above and uses software for centralized management. Whenever a problem occurs, the camera will display the image, if there is no problem, the camera temporarily off. This helps the operator easily monitor as well as reduce the amount of power consumption.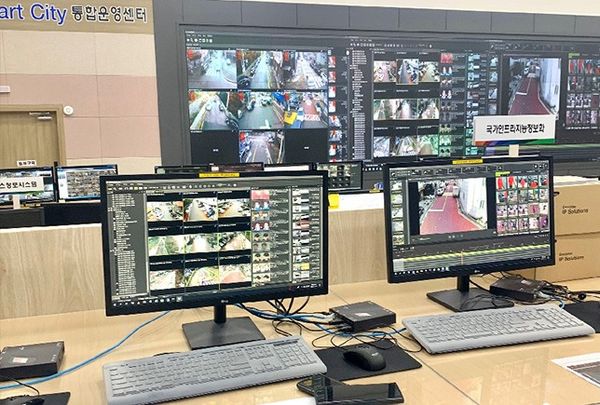 3 / Storage System
With 50,000 camera systems, the storage system plays an extremely important role.
They built a Server room with an area of about 10mx30m with an international standard refrigeration and humidity system to ensure the room temperature and humidity are stable to meet the standard of the Server to operate effectively.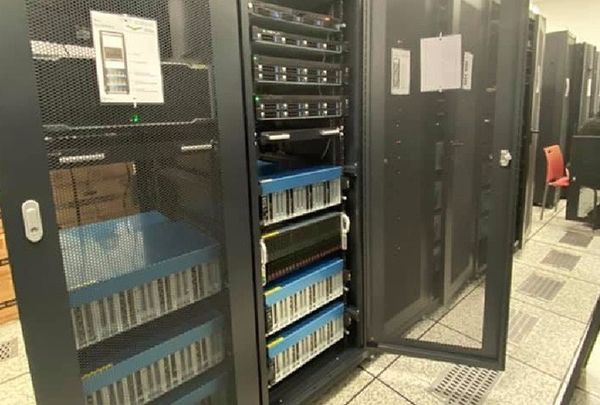 4 / Fire protection system
Upon a fire warning, all working personnel immediately ran out. And the system will automatically suck out the Oxygen gas and pump the carbon oxide gas to put out the fire.
5 / Backup Power System
When a power failure occurs, the UPS online system (located in the next room with an area of ​​more than 50m2) provides power to the center within 20 minutes. If the UPS is out of power, immediately the huge solar power system provides within 20 minutes. In case the solar power runs out, there will be a large generator can meet the system to operate for another 20 minutes.
Thus, despite a power outage, these three systems can automatically provide an additional 60 minutes for system operation. However, Korea rarely cuts power outages, so the system almost never interrupts during operation.
Above is a closed system for comprehensive security of a smart city, from construction, design, hardware, software to operational thinking. This solution not only helps to centralize management, ease of operation but also helps minimize the cost of using.
In Vietnam today, Vantech camera company is a distributor and consultant, transferring this comprehensive security system. If you need more relevant information, you can immediately contact JVS for more support.
————————————–
JVS Electronics Distribution Joint Stock Company
Hotline: 0967 033 533
Website: https://www.jvs.vn/
Related posts
08/04/2020 – Why choose PHGLock lock for your house
March 16, 2020 – Guide to changing Virtual Background images in Zoom Meeting
February 19, 2020 – Useful solutions from Sony dedicated monitors
14/02/2020 – What is access control system?
February 10, 2020 – Swanhurst School installs video surveillance system with IDIS camera